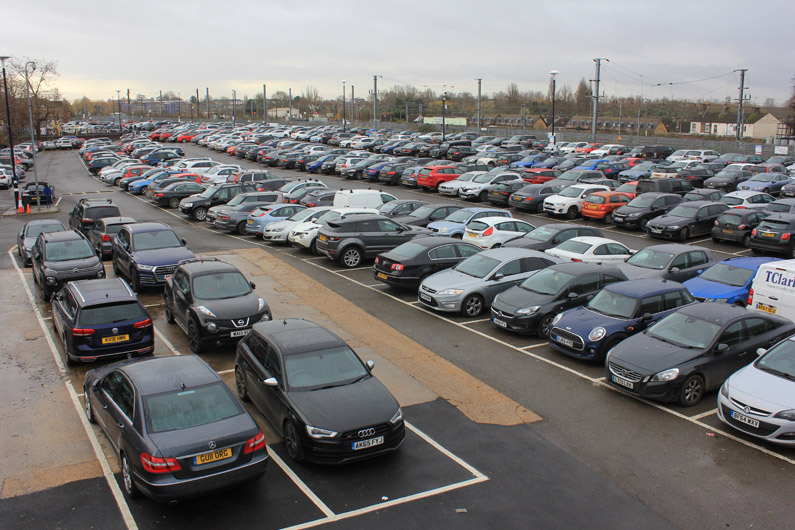 Do you commute by car into Peterborough?
If you do it's going to become a lot more difficult to park over the coming years. With a growing city, the council is concerned that increasing numbers road vehicles will lead to longer travel times and higher air pollution. One of the ways the council is hoping to control this is by making it difficult to park in the centre so residents will have to use public transport or an alternative method to access the centre. For some areas of the city, especially those on the Citi bus routes this may be less of a problem but not everywhere has such easy access to public transport. Selling council owned car parks also raises funds for the council.
The 2011 census for the village said that only 80 (3.7%) travel to work by bus, but 1,607 (73.4%) travel by car or van. While there is a good cycle path between Parnwell and the city centre the section between Eye and Parnwell is a narrow footpath along a busy road, and not really fit for purpose. We can only hope that one day there will be a proper cycleway and footpath along this section.
Car parks at risk of development:
Name (spaces(approx)) (Local Plan ref)

Acland Road (100) (LP46.3)
Dickens Street car park (135) (LP51.1)
Peterborough Station car park – south of Cresent Bridge (650) (LP47.6)
Pleasure Fair Meadows car park, Oundle Road (396) (LP49.2) [Edit: SOLD for £200,000 on the 25/11/2015]
NCP car park, Brook Street (90) (LP46.4)
NCP car park, Deacon Street (105) (LP46.3)
NCP car park, Lincoln Road (70) (LP46.3)
Queensgate car park, Lincoln Road (190) (LP46.3)
RCP car park, Lincoln Road (100) (LP46.3)
Wellington Street car park PCC (192) (LP51.2)
Wellington Street car park RCP (495) (LP51.2)
Wirrina car park, Bishops Road (229) (LP50.1)
Craig Street (120 spaces) was also a city council car park – its now Boroughbury Medical Centre. Also to note is that Peterborough bus park on Acland Road is also under threat.
The Peterborough City Council asset investment receipts summary from 2019 to 2021 lists the following car parks are listed as saleable:
2019/20
2020/21
Land at Bishops Road Car Park
Wellington Street Car Park
Wirrina Car Park
The council is getting quite desperate for funds to balance the books and is aiming to sell these car parks off whatever the consequences for the city residents that use them. Wellington, Dickens Street and the Wirrina car park are predominately used by commuters. You can find out more on what the council has sold off over t
he past few years here.
One likely outcome is more congestion as people drive round in circles looking for a car parking space, which happens in many cities. At the moment you can drive into the city and find a space relatively quickly, so whether you're parking in the centre for work or leisure this isn't really a problem. Another advantages, for the council at least is with fewer spaces the council will be able to push up its own parking prices to generate more revenue for the city council.
On a side note local authorities get the same business tax whether shop units are empty or full. If there is less footfall which leads to more empty units the landlord has to pay so there isn't really any loss to the council.
——-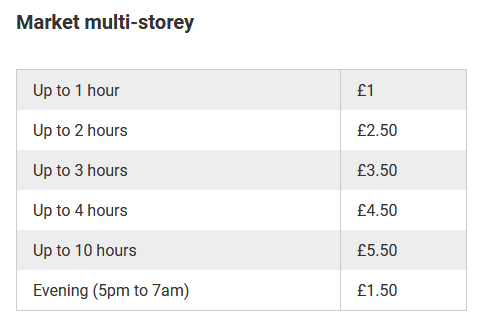 2019 update: The Market Car Park, the 720 space multi-storey on Northminster Road in the city has been deemed structurally unsafe and closed. Previous experience has shown that in the medium term it will probably be demolished and sold along with the adjacent market for redevelopment such as flats or some other development. A few years ago the car park was refurbished at unknown cost. In the past couple of years a suicide barrier was added which was estimated before installation to cost £250,000.
Even before the car park was rendered unsafe the city council were thinking about the car park's future. In 2015 a report looking at the economics of a installing suicide barrier said this: "Given that at this stage the Council has not determined how the Northminster MSCP would be redeveloped and the timeframe for this and, therefore a point at which it would cease being a car park or close for redevelopment, to make an investment decision now would be premature." and "If the decision were to continue to maintain and use this public car park for the longer term, which is unlikely".
It was a busy car park most days so the loss of income to the city council is likely to be significant. Even if each space generated just £2 a day on average, over £525K would be lost per year. It will be interesting to see how the council will make up this shortfall to the budget, its almost guaranteed residents will end up paying for it somehow.
——-
Public transport
In the local plan it says: "public transport links will be strengthened" and in the overarching issues sections, it also says "There is a need to improve public transport and to reduce travel by private car. There are opportunities to improve walking and cycling networks." This does seem to conflict with the latest news where some bus routes are to be scrapped or reduced as reported in the Peterborough Telegraph here.
Also in the local plan – LP5 which relates to urban extensions says: "Minimise the need to travel, whilst maximising sustainable transport modes. This will be achieved by locating key facilities such as schools and local shops within easy walking and cycling distance of most properties, incorporating high-quality walking and cycling networks linking to the wider area, and providing access to high quality public transport services and facilities, including bus priority corridors and, where appropriate and viable, park and ride". It will be interesting to see if "park and ride" leads to anything more than just words. Cambridge currently has several Park and Ride sites, Peterborough has none, that is partly down to the face that the Peterborough has a better road system and plenty of parking. We do have knowledge that new 1000 home estate at nearby Paston Reserve (LP35.2) has been waiting for a bus route* for over six years. There are bus stops but no buses! What is in the local plan and what is reality can be two different things.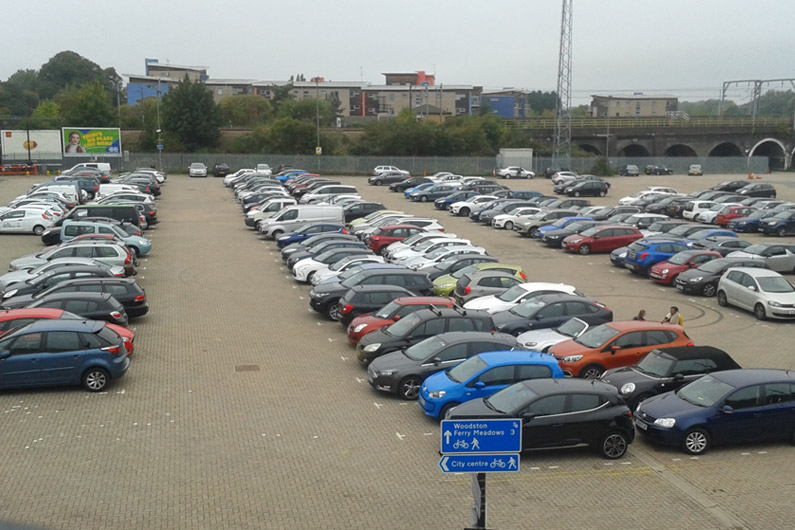 Appendix 1 – Local plan: 6.8.3

Reflecting the latest local Transport Plan (LTP) and Long Term Transport Strategy (LTTS), the council's broad approach is as follows:
City Centre Core: Reduction of cars and car parking in the core area with a strong
emphasis on pedestrians and cycles, but also promoting and accommodating public
transport.
City Centre: Reduction of car use in the city centre would be supported by parking policy
generally and public transport.
City Peripheral: The city periphery would encourage walking and cycling with improved
facilities and develop strong public transport corridors to enhance these modes.
Outer City: The public transport links will be strengthened where possible, with
improvements to services, priority and infrastructure. In these more distant locations
there will be efforts to ensure that all trips are directed onto the most appropriate routes
into the city centre to ensure that the network is being used as efficiently as possible.
Rural: The public transport links will be strengthened where possible, with improvements
to services, priority and infrastructure. In these more distant locations there will be efforts
to ensure that all trips are directed onto the most appropriate routes into the city centre
to ensure that the network is being used as efficiently as possible.
Appendix 2 – Local Plan: LP13

Policy LP13: Transport
New development must ensure that appropriate provision is made for the transport needs that it will create, having specific regard to the policies and proposals of the latest local Transport Plan (LTP) and Long Term Transport Strategy (LTTS).
To assist in achieving the aims of the LTTS and LTP all new development proposals should, where appropriate, demonstrate that appropriate, proportionate and viable opportunities have been taken to:
Reduce the need to travel, especially by car;
Prioritise bus use over car use across the network;
Seek to develop transport interchanges and travel hubs that provide facilities for transfer between modes of travel;
Improve walking, cycle and public transport connections to district and local centres, travel hubs and key services, including links from the railway station and the River Nene;
Make journeys on foot, cycle, public transport, car share or water the more attractive option
over private car use, through the use of direct, legible and segregated routes;
Provide an efficient and effective transport network that is well managed and maintained, using modern technology where appropriate, to allow for the safe and efficient movement of all modes of transport, together with quality information to improve knowledge of available transport options;
Assist those with access and mobility difficulties;
Promote improvements to travel security through improvements to lighting, CCTV and
underpasses;
Deliver quality cycle facilities at workplaces including secured and covered cycle parking,
showering and changing facilities; and
Seek to improve sustainable transport links to travel hubs from rural areas and improve
walking and cycle links between villages.
Developers will be required to ensure proposals for major new developments are assessed, using appropriate methodologies (such as Travel Plans, Transport Assessments and Transport Statements), for their likely transport impacts. Major development proposals adjacent to international and nationally designated biodiversity sites will require an air quality assessment to demonstrate no significant adverse effect on sensitive features. Major development located Peterborough City Council | Peterborough Local Plan (Proposed Submission) January 2016 not immediately adjacent, but within the vicinity of, such designated sites, may also require an air quality assessment if there is the possibility of a significant adverse effect arising.
The Transport Implications of Development
Planning permission for development that has transport implications will only be granted if:
appropriate provision has been made for safe, convenient and sustainable access to, from and within the site by all user groups, taking account of the priorities set out in the LTP; and
following appropriate mitigation, the development would not result in a residual cumulative severe impact on any element of the transportation network including highway safety following appropriate mitigation.
Parking Standards
Planning permission will only be granted for development if the proposal makes appropriate a deliverable parking provision in accordance with the standards in Appendix C, except for residential schemes within the City Core Policy Area which will be delivered in accordance with the requirements of policy LP46.
For all other uses, the number and nature of spaces provided, and their location and access, should have regard to surrounding conditions and cumulative impact and set out clear reasoning in a note submitted with the application (whether that be in a Design and Access Statement / Transport Statement / Transport Assessment and/ or Travel Plan as appropriate, depending on the nature and scale of development proposed).
Proposals must ensure that appropriate vehicle, powered two-wheelers, cycle parking and disabled parking provision is made for residents, visitors, employees, customers, deliveries and for people with impaired mobility.
In the city centre non-residential development will be required to make use of existing public car parks before the provision of additional car parking spaces will be considered. Elsewhere developers are encouraged to design schemes which share parking spaces with other developments where the location and pattern of uses of the spaces make this possible. If there is a realistic prospect of sharing spaces, the council will be prepared to relax the requirements for provision accordingly.
All development requiring parking provision should be designed, where practical, to incorporate facilities for electric plug-in and other ultra-low emission vehicles, or as a minimum the ability to easily introduce such facilities in the future.
City Centre
Within the area identified as the city centre on the Policies Map, all development proposals must demonstrate that careful consideration has been given to:
prioritising access for pedestrians;
improving accessibility for those with mobility issues;
encouraging cyclists to access the city centre;
reducing the need for vehicles to enter the city centre and particularly the city core policy
area, with retail and other commercial development service vehicles being carefully controlled to minimise unnecessary disturbance to the public.
* Residents of Paston Reserve have access to the Citi 2 bus route which goes along Gunthorpe Ridings but it's a quite a distance to walk from the furthest points on the estate.