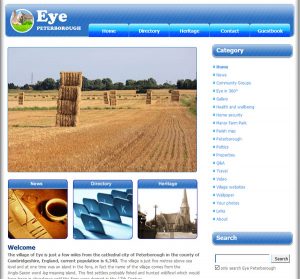 Welcome to the new and improved Eye Village website. With a fresher look and feel the new website is designed with you in mind. Its taken over a month of work and a quite a number of late nights to get to this stage.
Time has moved on since the original site was conceived and it had become time-consuming to manage. The new site should work should work a lot better on mobile devices with easier navigation and have more interactive sections. There's a whole host of smaller changes, all designed to give you a  better experience. If you have any problems please contact me here.
The home page has been updated and the news pages are now a lot easier to comment on. The heritage section has always been my favourite section and that stays much the same as it was, the directory has been revamped, companies based in the parish of Eye can add their business for free to this section.
The site costs £60 a year in hosting so if any Eye businesses would like to sponsor the site or advertise please click here. You will get a banner on the front page and a link to your website at the bottom of each page (currently I pay all the running costs myself).
Thank you for visiting.