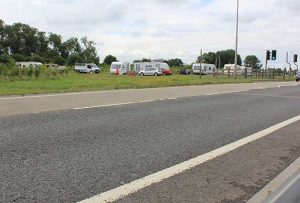 As travellers set up camp to the west of Eye on the entrance to the new A16, Eric Pickles, Secretary of State for Communities and Local Government, has issued new guidelines reminding local authorities in England of their legal powers to deal promptly with illegal traveller sites.
As reported on the BBC the guidance also deals with the problem of the clear-up operation on such sites. Mr Pickles said: "I want all councils to be ready to take action straight away to stop illegal camps and unauthorised sites starting in the first place. Decisive action early on saves money and unnecessary upset for local residents. "We've strengthened councils' powers so they have the confidence to take decisive action. Too often council officers wash their hands and say nothing can be done. This is not the case.
In the financial year 2011/12, Peterborough City Council paid out £25,000 cleaning up after travellers' makeshift camps. In 2009/10 they spent £18,870, in 2008/09 the figure was £30,340 and during 2007/08 £21,830 was spent. PT Waste typically includes tyres, household matter and faecal matter.
To the north and east of the city there are a number of fixed traveller sites; Norwood, Oxney Road, with smaller sites already at Eye, Werrington and Glinton, to the south and west there are no sites.
As a local resident said, "it's not what their culture I am against it the mess they leave when they move on". There are plans to build a 10 pitch transit site off Norwood Lane in Peterborough.
New guidance for councils https://www.gov.uk/government/news/councils-can-quickly-stop-illegal-encampments