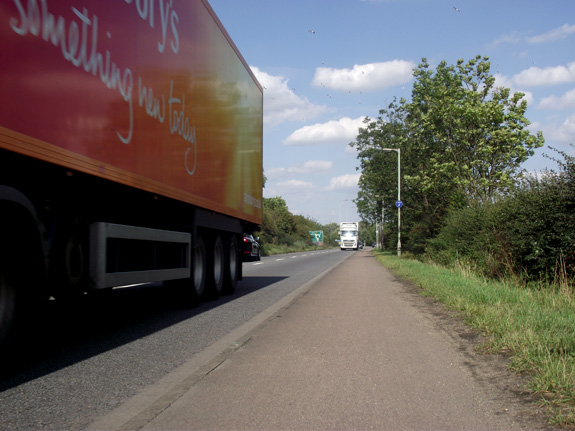 The road above is the one children will have to walk or cycle along now the transport has been cut. The council has said that improvements to the roundabout have meant it is now safe for children from Eye to walk to Deacons. The crossing is one thing but the road has a very high volume of traffic including articulated lorries and only a narrow path on Eye Road between Eye and Welland. Have these council staff who made this decision ever walked the route? This decision will put children's lives at risk. Its dangerous enough for adults, without children having to walk along it and even worse in bad weather or on dark winter evenings.
Traditionally children from Eye went to Arthur Mellows Village College in Glinton. The background to this whole sorry saga started when catchment areas were redrawn in 2006 ahead of the Deacons Acadamy opening in 2007. It seems some parents were made to send their children to the brand new Deacons Academy but the school ended up with too many pupils wanting to go there so the catchment area was changed back to Arthur Mellows.
As one student commented on the story "we didn't pick the school we got made to go there because the council changed the catchment area. And in return the promised us free transport until year 11. Is not, in fact, the distance it's the fact that they broke the promise. And before anyone says shouldn't have picked the school we didn't, our right to pick a school got taken."
And from a parent: "As a parent, I didn't originally didn't want my send my child to Deacons Academy. But at the time I was told I had no choice in the matter as Arthur Mellows had too many pupils. To be told a few years down the line that free transport is going to be removed because the council has changed its mind is a disgrace and I will be doing everything I have to get it re-instated. Maybe if the City Council had listened to parents in the first place rather than just rail-road changes through this could have been avoided. "
There was a story about it in the Evening Telegraph in 2006, click here.
On top of this, the three-mile limit is around half-way through the village so pupils that live on the opposite side of the village will still get transport while others will have to walk while the bus passes them on the main road. In fact, the stop that children catch the bus from is around 2.9 miles from Deacons.
The question is will the council be held accountable if a child is injured or worse walking or cycling to school?
More on the story on the Evening Telegraph website here.
UPDATE: The council have u-turned their decision to remove free transport. More here.