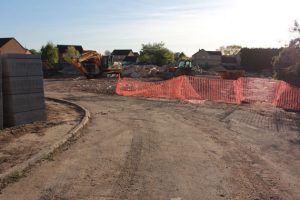 The Croft has all but been demolished to make way for new housing…
The Croft which accommodated 39 residents was opened on the 2nd April 1969. It was closed by Peterborough City Council in 2012 after the Council's cabinet approved its Older Person's Accommodation Implementation Strategy, which condemned five of the city council run older people's homes to close.
At the time Peterborough Pensioners' Association Mary Cooke backed the relatives' fight. She said: "Its supposed to be all about choice these days, but where is their choice."
The city council's strategy, together with NHS Peterborough, saw residents move from older care homes into privately run independent living flat complexes, known as extra care homes.
Older peoples accommodation still exists in the village, to the east of Eye on Eyebury Road is Field house which accommodate 33 residents and on Thorney Road is The Spinney Extra Care Home which has 64 flats and bungalows.
The plans are to build 14 new homes retaining the eastern hedge. See the full planning application here.