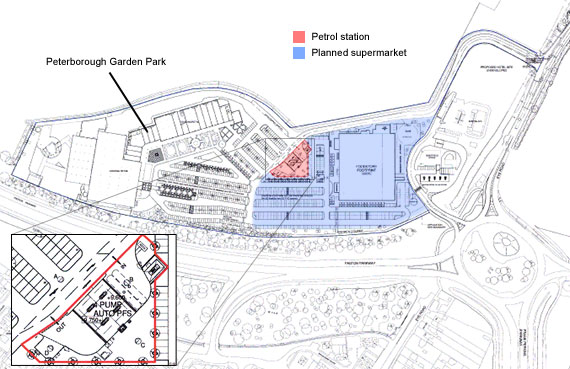 Design of the new Garden Park supermarket has been revealed. The design is in keeping with the rest of the park with the front of the building cladded in timber. The sides and back will be covered in olive green steel cladding. Planning permission for a new multi-million pound supermarket at Peterborough Garden Park was granted in March 2014. An amendment to the original application is also with Peterborough City Council planning department for the addition of an 'automated' petrol station.
Conditions have been tough for the Garden Park since it opened in Spring 2010 during the midst of the resession. With Hobbycraft moving to the recently refurbished Lincoln Road retail park the owners will be hoping the new supermarket will draw more customers to the park which will then attract new retailers. A number of units have remained stubbornly empty since the park opened and Hawkin's Bazaar and Past Times left empty units after they went into bankruptcy.

Original plans for the supermarket were granted planning permission in 2012. These included a skills centre which would include a workshop and arts and crafts area, as well as cycling facility and a children's play barn. In the recent application most of these were dropped. The planning application agent is Drivers Jonas Deloitte (Deloitte LLP) who advise a number of retailers including ASDA. At the time the council's retail consultant, GVA, expressed a concern that a new supermarket on the site would impact on other supermarkets and retail areas currently in the city, but admitted this impact would be "moderate" rather than major. Already Sainsbury's is just one mile away on Oxney Road and a new Waitrose superstore is currently being built in the city centre. There are still concerns on how this will effect the small village retailers, supermarkets have been known to run aggressive marketing campaigns in their local area.
Eye Parish Council had concerns with the original application "There is no detailed plan of where the associated works are going and so we are unable to give a proper comment on the application. We also have concerns with the traffic flow caused by the parking of 600 vehicles at the proposed supermarket and the impact this may have on Eye village". Already the A1139 is grid locked during morning rush hour.
Eye based Knightons Butchers, have been producing high quality local products for 85 years. They remain positive in the face of growing competition. I asked them whether they had any concerns: "It will be no more competition than Sainsburys or other nearby supermarkets. We have a loyal local customer base and our delivery service is expanding." The butchers offers a personal service that supermarkets can't compete with. They have a strong online presence with over 1000 likes and followers on both Facebook and Twitter.
Bella Saltmarsh, councillor for Dogsthorpe, added: "The supermarket will provide a much-needed food store for residents of Welland, Dogsthorpe, Parnwell and Eye and the overall development will bring a welcome employment boost for local people." But lets hope its not at the expense of local businesses.
14 August 2012 Garden Park supermarket plans get the go-ahead
6 August 2012 Supermarket development gets the green light
Local Works: Save our communities from large Supermarkets
The Guardian: Supermarkets kill free markets as well as our communities
Peterborough Garden Park: Press releases
Peterborough City Council Planning