Rural crime is on the increase and as reported recently in there have been a  number of burglaries in the village. There are many ways to increase your security and it doesn't have to cost a lot. A criminal will 'balance risk against the potential reward' so don't make it easy from them.
You can view crime statistics for the village here.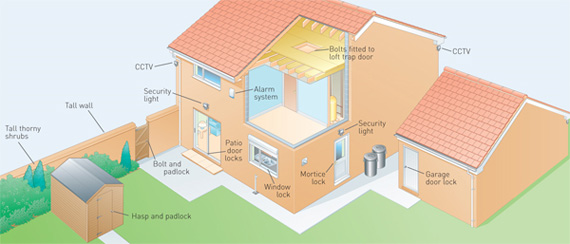 Your security is only a strong as the weakest point. Two out of ten burglaries don't even use force. Here are a few tips:

DO: Use timers that switch lights on and off in different parts of the house. A light that's always on is only slightly better than no lights at all.


DON'T: Leave sheds or garages unlocked. Used quality padlocks and hasps where the bolts are hidden. Hasps that use coach bolts are recommended as there is no way to unscrew the padlock from the outside. Padlocks are available from £6 upwards from B&Q. A shed alarm can cost as little as £10.

DO: Install window locks around the house. Keep the keys within reach of the window but out of view in case you need to escape in an emergency.

DON'T: Pop next door and leave the door unlocked, most burglaries are opportunity and happen in less than 15 minutes. Keep the doors locked, even if you're in, especially as the nights get darker. Thieves coming in and stealing items off the worktop and walking out again without the householder even knowing is a regular occurrence.

DO: Install an alarm system and use it, even if you're only popping out for a few minutes. Get a 'zoned' alarm e.g. so you can protect the lounge while you're in bed at night. Keep it maintained, as false alarms not only cause annoyance but everyone will ignore it if it goes off. CCTV, although more expensive can also be a good deterrent. A decent DIY alarm can cost as little as £150 and may reduce the cost of your home insurance.


DO: Make sure any gates are shut and if possible locked at night. You can get plastic wall or fencing spikes from Screwfix which are designed to deliver maximum discomfort to unwanted visitors, but minimum harm.

DON'T: Leave mobile phones, ipods, money, keys in sight of the window.

DO: Keep valuables hidden. Burglars spend half the time in the bedroom so find better places to hide them. A safe can be had for a reasonable price but make sure even that is hidden.

DO: Walk around your house and photograph everything, then keep the images in a safe place.

DO: At a minimum, mark items with your postcode. A UV pen with light can be had for around £7.
Advanced security:
Smartwater is a paint that has a unique

forensic solution that is then registered to your home or business

. Visit the site for more information.
Contacts.
If you have information about a crime or spot anything suspicious you should call Cambridgeshire police on 101 or Crimestoppers, anonymously, on 0800 555 111.
In an emergency call 999.
Report graffiti to Peterborough City council on 01733 747474.
E-cops – Sign up to get news and information on what is happening in the area.
Secured by Design – A UK Police flagship initiative supporting the principles of 'designing out crime'
Going on Holiday?
Turn the water off
Mow the lawn just before you go away, and if you're away for longer see if you can get the neighbour to go over it for you, especially the front lawn.
Before you go don't discuss your holiday on the web and let only people that need to know, know!
Curtains Closed — or Open? I'd recommend just pulling the curtains a little more together than usual but not completely closed.
If you've got someone you can trust leave them with a spare key and the code to your alarm in case there is a problem.
Unplug or switch off everything at the mains before you leave.
Police
Eye comes under the Peterborough North – East Neighbourhood Policing Team which covers Werrington and Paston areas of the city and surrounding rural villages northeast of the city, including Newborough and Thorney. You can contact them by:
Police surgeries are held on Wednesday and Friday Mornings in the Leeds Hall.
What do I do if I've been burgled?
Hopefully it will never happen but click here for more information.