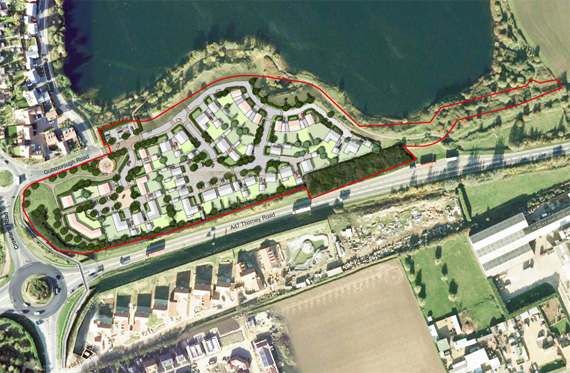 Decision appealed...
O&H Properties Ltd have appealed Peterborough City Council's decision to refuse planning permission to build 55 homes on a site adjacent to Eye's Nature Reserve. The number of homes applied for was 60 percent higher than the 35 recommended in the Peterborough City Council's Site Allocation Plan (if the plans had been for 35 homes it would have most likely have been passed without incident).
The design of the new estate is of a much higher density than the nearby Pershore Way and concerns over a buffer zone to the A47, a shortage of primary school places due to new residents coming to the area, and cutting into the adjacent Wildlife Site, were all listed as reasons why the application should be rejected.
The planning application is currently with the Secretary of State, you can view the appeal and make comments here.
If wish to make a representation you can fill out the online form here (click on Make representation), you can email the Planning Inspectorate Customer Services Team at enquiries@pins.gsi.gov.uk or write to them: Planning Inspectorate, Registry/Scanning, Room 3/05 Kite Wing, Temple Quay House, 2 The Square, Temple Quay, Bristol BS1 6PN. Please ensure that you quote reference number APP/J0540/W/15/3014912 in your correspondence and if you are sending your comments by post the Planning Inspectorate require you send them three copies of your correspondence.
The closing date for comments is Friday 12 June 2015.
Continue reading "Guilsborough Road estate – Planning decision appealed" →