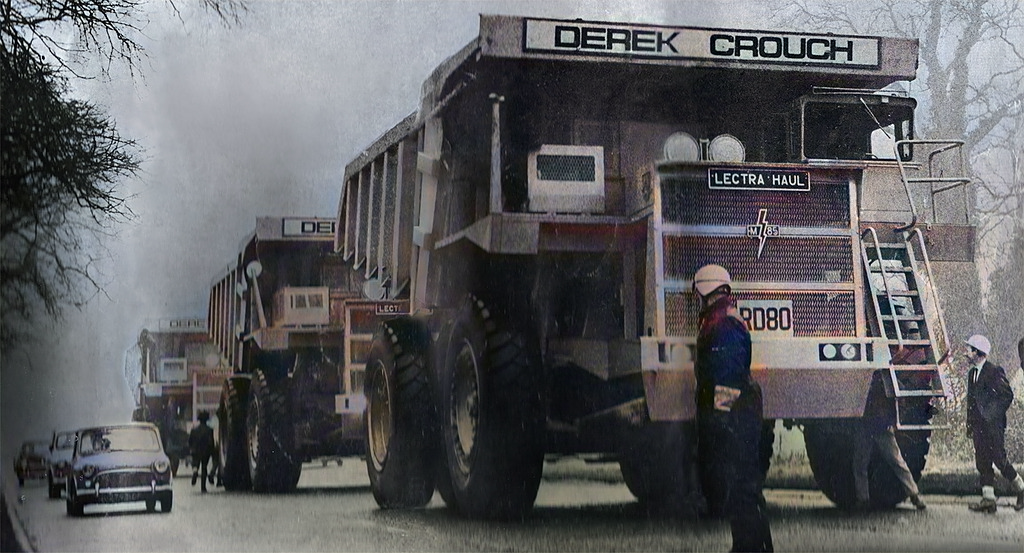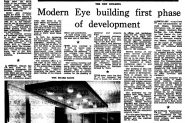 Derek Crouch Contractor Ltd came to Eye in 1958 after purchasing an 11-acre site to the east of the village, just north of Eye C of E Primary School school. The company was located in Station Chambers on St Leonard's Street in the centre of the city of Peterborough before moving to Eye. Derek had started the business in 1938 as a contract ploughman with one employee on Norfolk farms. He then branched into land drainage and after World War II into opencast coal mining. Within 20 years the company had grown into a multi-million-pound enterprise involved in open cast coal mining, construction, demolition, civil engineering, and plant maintenance.
How did Derek go from land drainage to Open Cast mining? If anyone knows anymore please post below.
Before Derek Crouch constructed his new workshop and HQ in Eye a large house known as the 'The Lawns'1 stood on the plot. Derek Crouch retained the name 'The Lawns' in the address of the business. The premises had a large workshop, a hanger for the company aircraft and offices at the front of the property. Behind the site was the runway.
One of the specifications for the new location was to retain as many of the existing trees as possible. This possibly paid off for the company as they won the 'Civic Trust' award in 1959 for the design of the office and surrounding landscaping. The national award scheme which was administered by the local council aimed to 'create a greater awareness of the problems of architecture, planning and civic design and to draw attention being made to the environment.'  The assessor's comments on the entry were: "The landscaping of this project has provided an amenity to the approach to this village which it is hoped will be emulated by other industrial firms in this area. The building itself is of good quality in design and finish and the preservation of trees, retaining walls and natural slopes with further planting good quality boundary walling is a very creditable contribution to amenity by a business firm." The building was designed by local architects Ruddle and Wilkinson and built by Derek Crouch themselves.
Derek Crouches office in Eye. Photos courtesy of Francis Firth.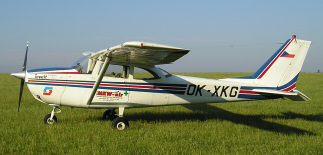 Derek was an experienced pilot and regularly flew to the northeast of England to inspect his mines. Record show that two aircraft were located at the site in Eye, a 1965 single-engine Cessna F172G Skyhawk (G-ATKS) that had a cruising speed of 140mph and a maximum range of 736 miles, and a 1964 twin-engine Piper PA-23 Aztec 250 (G-ASNH) which had a range of 1500 miles and a cruise speed of 172mph. The Piper is recorded to have crashed while landing in 1992. It's still flying but now owned by a company called SMA located in the US with a new registration, N818MJ. The plane was most likely flown to the US via the 'Crimson Route' (UK, Iceland, Greenland, Canada then onto the US) but could have been dismantled and shipped there. The Cessna also suffered a crash landing in 1993. In 1995 it was deregistered in the UK and transferred to the Czech Republic and re-registered as OK-XKG. It's still flying today from Letkov airport with a company called MKW-air. It was great to find that both of the planes are still operational.
The company was known across the United Kingdom and Australia for its opencast mining and ran some of the largest opencast mines across the UK. Opencast mining involves removing the overburden (the earth that covers the coal seam) then dumping and backfilling the excavated area. When all the coal has been removed and the mine closed the land is restored to as close as possible to its original condition.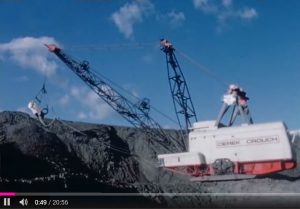 The company's opencast site at Llanharan, South Wales covered 800 acres and produced 330,000 tonnes of coal each year. They had first got into surface mining just after World War II and quickly developed into a major pioneering force with an impressive list of achievements. This included the only bucket-wheel excavator to be used in a U.K coal mine, the SchRs 250/0.8 12.5 which was designed and manufactured by the German company Krupp, Also purchased in 1969 for £2.3 million was the B-E 1550W walking dragline otherwise known as Big Geordie for their site at Widdrington. It weighed 3,000 tons and took 12 months to assemble and was the largest dragline in Europe until 1990. Its job was to scrape earth from above coal seams, not dig out coal, this was done by smaller, more manoeuvrable machines. Big Geordie could lift 100 tons (equivalent to 140 medium-sized cars) with one bite of the bucket.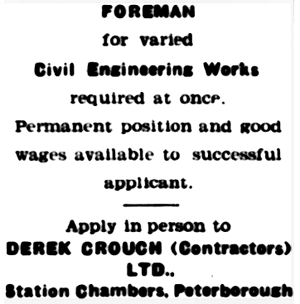 The company regularly had jobs in the local newspapers asking anything from office clerks and civil engineers to bricklayers, excavator and dragline operators. A local newspaper report from October 1951 reported that a Mr and Mrs Charles A. Sanders and their six-year-old daughter Sheila from Dogsthorpe had left the UK for a flight to Australia via New York and Honolulu to open the Melbourn branch of Derek Crouch. Mr Sander was a director of the company. It's a long flight today, an even longer flight in those days.
The company seemed to take on all sizes of contracts. In December 1953 there was a report that Derek Crouch Contractors' bid of £1.15 million to recover approximately 500,000 tons of coal at Tudhoe near Durham had been accepted by the National Coal Board. The contract involved the excavation of 12 million cubic yards of overburden. In 1957 the company was awarded a contract of £1.3 million flood protection scheme along the River Ouse. It was probably because of the rapid growth of the company in the 1950s that a new HQ for the company was needed and located in Eye.
In 1958 there was a story about the company's use of Pye radiotelephones, a similar system to what companies such as taxi firms still use today. All the work vans were fitted with radiotelephones and with a master station at the HQ in Eye, the employees in the office could keep in touch with all the worksites without leaving the office saving fuel and time, normal today but pretty forward-thinking for construction companies at the time.

Of course, it wasn't all plain sailing. In January 1961 there was a report that for a second time in three months the office in Eye had been broken into, the company's new safes had been blown open with explosives and £216 in cash and £263 in holiday stamps were stolen. Interesting it was just a small story in the newspaper of the time, I'm sure if the same happened today it would be all over the front page. Previously in September 1960 over £4000 (equivalent to £94,000 today) of wage packets had been stolen from two safes by pulling off their backs. Both times access had been by forcing a ground floor window. It's unknown if anyone was ever caught for this.
Just some of the contracts won by the company:
September 1957: Second stage of River Ouse Flood protection scheme £1,304,459
January 1957: £13 million opencast coal mining contract
December 1960: Filling in Car Dyke from Newark Hill to the city boundary £14,742 19s 7d
August 1960: New sewage treatment works at Burwell with seven miles of sewers £168,000
November 1962: Extension to sewage disposal works at Fengate £475,000 and in Bedfordshire £422,000 to build new sewage works and piping,
April 1962: The company tendered and won the contract to install a sewer to the new Peterborough District Hospital that was under construction in the city.£3,462 5s 11d
February 1970: Opencast production of seven million tons of coking coal at Llanilid, Wales. £20 million.
In July 1979 they won one of their largest ever contracts, the development of an opencast mine at Togston, Northumberland for £23 million, around £105 million today. This relatively short-lived pit opened in 1980 and closed in 1984. It has since been restored to farmland.
It wasn't all work though and The Derek Crouch Sport and Social Club held events throughout the year. In 1960 it was reported that 50 people attended a dance at the Wheatsheaf on the 29 October with music provided by the 'South Side Stompers'. Does anyone remember them? In February 1961 around 70 members of the Derek Crouch Social Club attended a valentines dance in the Leeds Hall in Eye. And later that same year, forty-five employees attended a dinner and dance at the Campbell Hotel in the centre of Peterborough.
While working at Eye I was located in a portable office behind the main office. John Allan Beake was Contracts Director and my boss. I was working as a Senior Quantity Surveyor and prior to going to Eye had been on site in Chelmsford on a large river contract. I worked on a new bridge in the fens probably the first time expanded polystyrene was used as formwork and after I left the firm also helped with the tender for the new swimming pool in Peterborough. At that time Mrs Crouch's old pony was still around and I believe it was about 40 years old. I didn't come into contact with Derek very much but remember that the firm was quite generous at Christmas time with turkeys etc. Roy Whitehead

The company floated on the stock exchange in 1971. The shares were released at 80p each, putting the values of the company at this time at £7.5 million, nine-tenths of the profits of the company at this time related to opencast mining. By 1976 the Derek Crouch Group had five wholly-owned subsidiary companies, employed approximately 2,000 people and had a turnover of more than £20 million. It had 10 regional centres as well as temporary offices at each of their major construction sites. It wasn't just front of house where Derek invested, in 1976 the company was looking to upgrade their Honeywell 115 computer to a Sperry Univac 90/30 mainframe computer to undertake the general accounting and payroll work needed, it was some of the latest technology at the time. Again it was about trying to increase efficiency and stay ahead of the competition.
In 1977 the Derek Crouch Group of companies listed:
Derek Crouch (Contractors) Ltd
Derek Crouch Construction Co Ltd
Derek Crouch (Scotland) Ltd
Derek Crouch (Sales) Ltd
Derek Crouch (Belgium) Sales
Derek Crouch (Australia) Ltd
Amblewick Property Co Ltd
Sokenwick Ltd.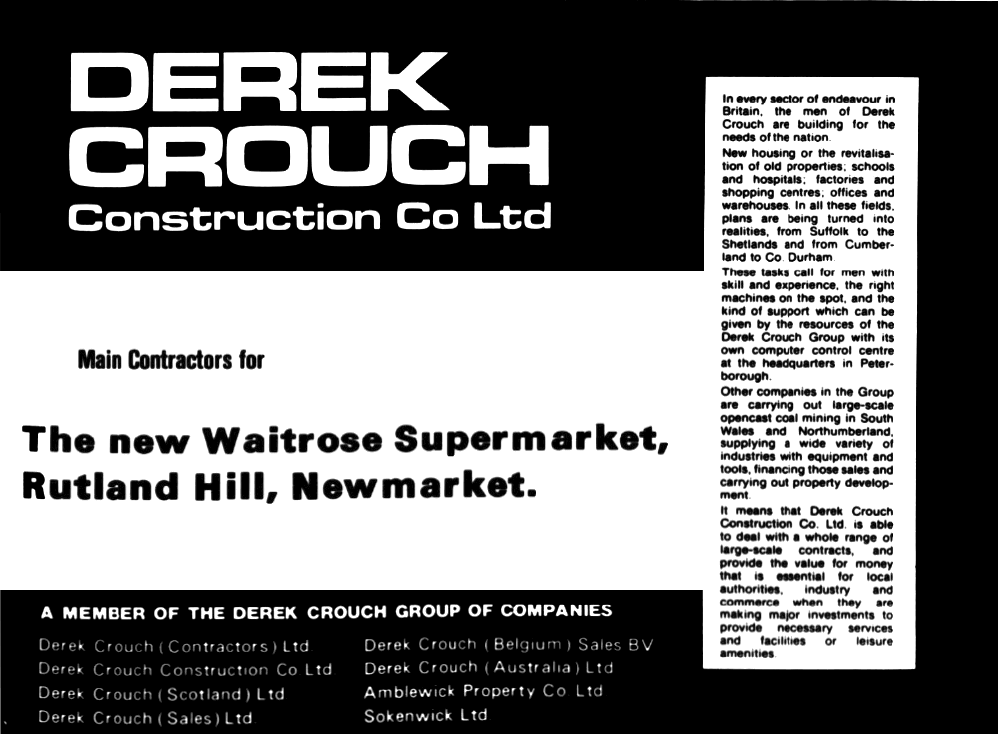 Just a few sites built by Derek Crouch Construction include: Conversion of Lock Lomond Hotel into flats and houses, Balloch (1984), Bede Community Primary School extension, Gateshead (1984), 33 unit Sheltered Housing Complex, Greenock (1984), Shafto Court retirement complex, Newcastle (1982); Robins Wood housing estate, Wanford, Peterborough (1977); £1.9 million Peterborough Regional Pool (1976);  New hospital and health centre, Whitby (1975); Offices for Sun Alliance and London Insurance Group, Middlesborough (1973); Cumberland Hospital (1971); Police Headquarters Sunderland (1971); Every Ready factory, Newcastle (1971), Osram Factory extension, Gateshead (1969) and Billingham West Precinct 1968.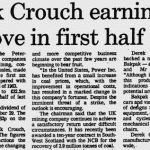 At its peak the company was highly successful, between 1976 and 1980 the company's pre-tax profits increased from £1.5 million on a turnover of £29 million to over £3 million on a turnover of £65.7 million. In 1981 shares were running at 182p per share. It's recorded that £1000 invested in 1976 would be worth £5687 by 1981, a good return for anyone. By 1984 they had branches in Birtley, Uanharan, Widdrington, Perth, Australia and Philipsburg, Pa., USA.
In 1987 the company was acquired by Ryan International for £27 million and the HQ was moved to Morpeth, Northumberland, one of the largest opencast coal sites in England. Ryan International had a turnover of £96 million in 1987 and was one of the most active mining groups in Europe. The new company established through this merger had an annual output of 2.75 million tonnes of coal. Crouch Mining was divested of most of its non-mining businesses so the company could just focus on open cast mining and plant maintenance. Derek Crouch Construction Ltd was sold to Wimpey Homes in June 1987 for £5 million. The site in Eye was also sold.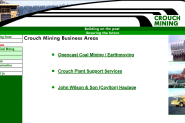 After purchase by Ryan International, the name was changed to Crouch Mining. In 1988 Ryan International was in talks with Carless Capel and Leonard to merge with the company, this deal collapsed when Carless itself was the subject of a takeover. In 1989 Ryan was the subject of a £69.6m management buyout by a new company called Digger.
Crouch Mining continued to invest in the latest technology and equipment available to the industry, including the largest walking dragline in Europe, The Ace of Spades. Despite this, the market was changing and the large investments the company had made were costing the company dearly, with the import of cheap coal and the growth in gas power stations, the company was struggling. By 2001 the company had a turnover of £45 million but lost over £5 million. This couldn't be sustained and Crouch Mining fell into receivership in December 2003 following a number of years of financial difficulties. Half of the company's jobs were secured when the company's plant repair business was sold to UK Coal.
The man behind the company: Derek Crouch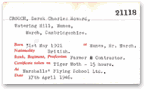 Derek Charles Howard Crouch was born in Manea on the 31 May 1921 and was educated at Oundle School. He formed his own business at the age of 19 and built up Derek Crouch PLC into one of the country's leading construction and civil engineering businesses with interests throughout the UK, USA and Australia. He learned to fly in 1945 and piloted his own plane for more than 40 years. His greatest adventure was said to be his trip to South Africa in 1967.
Mr Crouch was an experienced pilot with the company plane stationed in a hangar at the rear of the offices and workshops. Among many other destinations he regularly flew to the north east to inspect the open cast coal mines, which were being excavated by a 3000 ton giant excavator, named Big Geordie. I was his passenger on several occasions and I remember him looking out for the two brickyard chimneys as a landmark for him to prepare to descend and land. Stan Goakes
Together with his brother Maurice and father Harry they were among the pioneers of Green Crop Dehydration in the UK importing one of the first processing plants from the USA in the 40s. On the 15th April 1954 he married Pamela Martha Elizabeth Whittome in London. They had their honeymoon in the south of France. Pamela was born in 1917 and came from a wealthy farming family, interestingly she was also a licensed flyer, was it through that common interest how they met? Her previous husband, Kenneth Whittome whom she'd had four children with had sadly died suddenly in 1952.
Derek's brother Maurice Alfred Crouch was also a qualified pilot. Maurice farmed at Carrolls Farm, Wisbech Road, Manea. In the 1950s/60s he was also farming on the island of Alderney, where he grew flowers and early produce, flying them into Cambridge for the London markets. He retired to the island of Alderney. He also was also a well-known cricketer who played for Cambridgeshire in the Minor Counties championship from 1936-1965 and captained the team from 1952. His best score was 81 against Oxford at Lord's in 1952. Other clubs he played for were March, Wisbech, Camden and St Giles. Maurice died in Morocco in March 2001 aged 83.
Derek left around £4m when he died in 1989 aged 67. Pamela died in 1991 aged 73.
The Derek Crouch Locomotive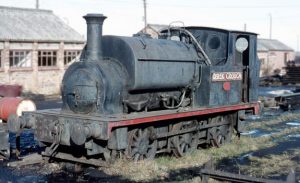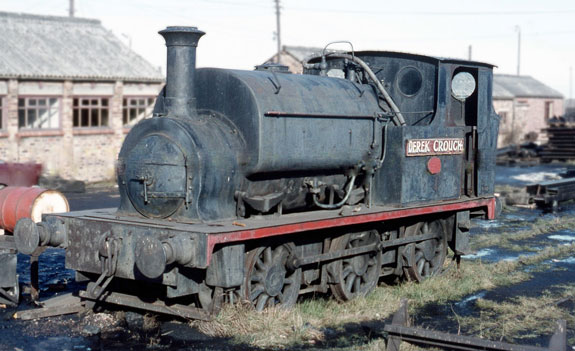 At the Nene Valley Railway in Wansford sits the locomotive The Derek Crouch, a Hudswell Clarke 0-6-0ST built in 1924 at a cost of £1,800.
Originally ordered by Sir Robert McAlpine & Sons for use on the Watford bypass. In 1943 the loco was purchased for use on the Wissington Light Railway and was overhauled at Doncaster. It was purchased by Derek Crouch in the 1960s for use at an opencast coal site in Widderington, Northumberland. It was during this time that the locomotive was re-named the 'Derek Crouch'. It remained at the works until 1970 when the locomotive was moved and placed in storage at Derek Crouch's base in Eye.
In 1972 it was placed on permanent loan to the Nene Valley Railway and hauled the Nene Valley Railways first carriages in 1974. It was taken out of service in 1982 and placed on static display and then undercover in the running shed to protect it from the elements. Over the years the body had deteriorated but cosmetic restoration was completed in 2014. The aim now is to bring the train back to steam in time for the locos 100th birthday in 2024. Find out more from the Nene Valley Railway's Small Loco Group. News.
Today
Today the housing estate, Fountains Place covers the plot of land where Derek Crouch was located. It was originally called Swan Place but as most of the streets in the village are named after abbeys and cathedrals it was changed to what it is Fountains place, named after Fountains Abbey. The houses were built by McLean Homes (taken over by Wimpey Homes in 1995) and designed by architect Phillip Evans. The entrance to the estate is still in the same place as it was in Derek Crouch's time and the original front wall still stands. Additionally, some of the trees including the large chestnut to the right of the entrance remain. The runway is now a pasture for horses. Station Chambers in the centre of the city of Peterborough was demolished to make way for redevelopment and the Queensgate Shopping Centre, St Leonard's Street itself doesn't exist anymore.
Big Geordie, the 3000-ton dragline bought by Derek Crouch was working until 1991. It was constructed at the Radar site close to Widdringtonin Northumberland. In 1977 it was walked 2.6 miles to the Butterworth Open Cast coal site before finally ending its days at the Stobswood site. It was put up for sale but as there were no takers it was sold for scrap in 2oo4. The Ace of Spades dragline bought by Crouch Mining was in operation for 12 years until 2002. In 2007 it was dismantled and shipped to the US for use in a lignite mine. It was reassembled and started work again in 2011. In 2020 it was back up for sale. You can still see one of the buckets from the Ace of Spades close to the village of Ulgham in Northumberland.
Footnote: Opencast mining in the UK is a declining industry, and it's very likely that the last few opencast coal mines will close in the next few years. With an increasing focus on renewable energy or low-carbon sources, the demand for coal is likely to continue to fall. The consumption of coal, mostly for electricity fell from 157 million tonnes in 1970 to 18 million tonnes in 2016. 77% (14 million tonnes) of this was imported from Colombia, Russia, and the United States, despite there being plenty of coal in the ground in this country. The government has announced plans to shut down all coal power plants in the UK by 2024. According to research by BP, it's been estimated that at the current rate of use the planet's oil deposits will have run out by 2052, but we will have gas and coal for a while longer. We may still need open cast mines in the future to plug the energy gap…
1 'The Lawns' owned by a Mr W. G. Moore was the centre of peace day celebrations in the village after the peace treaty had been signed at the end of the first world war. Later in the year, a tree was planted in the grounds to which were added a commemorative tablet and iron fence.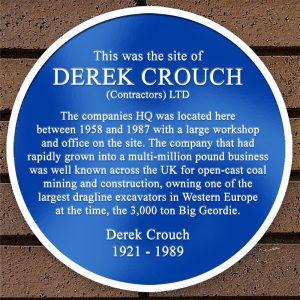 Did you work for Derek Crouch, do you have any photos of the HQ in Eye, a photo of Derek Crouch or even some old paperwork that I can add to this page please let us know. I would really like to add a photo of the man himself to this page so if anyone has a photo please contact me. If there are any errors on this page please let me know.

Sadly there is nothing left of this formidable company in the village but considering the companies achievements would it be appropriate to get a blue plaque on the front wall where the site was. What do you think?
Links
Derek Crouch under restoration
Youtube – Opencast Min
There are giants in the employ of Derek Crouching in the UK
Wissington 0-6-0ST
The 'Ace of Spades' finds a new home
References
Newspaper articles, predominantly Newcastle Chronicle, Peterborough Standard and Peterborough Advertiser
Internet, Wikipedia